I'm very close to pulling the trigger on this custom bag from an Etsy seller: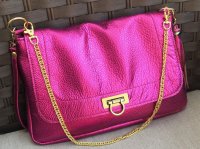 My version will still be pink but will have black "trim" on the flap and silver sides/bottom, as loosely marked here: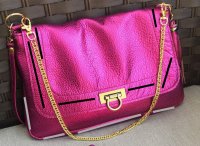 My challenge now is picking the hardware. I could stay with gold, as in the photo or go with silver. Or, I could go for rainbow hardware: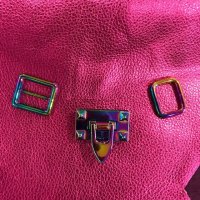 Any thoughts/advice/guidance? I really love rainbow hardware. I had an Alexander Wang Rockie in black w/iridescent hardware that I LOVED (but sold because the bag itself didn't work for me), and I've always wanted something else with that rainbow/iridescent hardware. I particularly love rainbow hardware against black, but I think it looks quite nice against this pink too. However, I've found that rainbow hardware can sometimes look juvenile to me. I can't quite put my finger on what makes it work for me and what makes it look silly to me, but it's one of those things that I see and know - I feel like it works and love it or it really doesn't. That is what I fear here - I'm worried that I'll end up feeling the rainbow hardware was a poor choice for this bag. And I'm afraid I don't have the vision to be able to really imagine what it would look like with rainbow hardware without actually seeing it. A part of me feels like I should go safe with gold or silver (but which one?), but another feels like I should indulge my rainbow hardware love. What do you think?