I recently purchased some bangles to wear with my Cartier Love ring and I'm not sure if I should exchange them for the opposite colour combo. I'm thinking now the little diamonds would maybe pop more in a rose gold band and the chunkier chain style would be better in silver?! (Definitely want one rose gold and one silver as I love the mixed metal look).
Which colour combo do you think would be better on me? First pic is the bangles I currently have, the other pic is the same bangles in the different colour combo.
Thanks in advance for giving me your opinion!!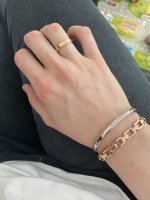 or would this colour combo be nicer?