I'm having a tough time deciding which ones to sell/let go of and which ones to keep. These luggage bags take a lot of space to store! So I need to sell a couple since I'm trying to make space for a navy nano and royal blue mini (when I find them). I've really run out space! Which ones would you keep and which two would you sell? I'm leaning on the tricolors because I use them less.
From left to right and front to back:
Flouro orange nano
Vermillion mini (I'm currently using), green tricolor mini, grey tricolor mini
Red grainy mini, burgundy smooth shoulder, camel grainy mini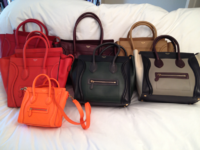 Which are your favorites?
Thanks for helping me with this tough decision!