I am having SUCH a dilemma!
I'm thinking about getting a new bag... I need something versatile that I could use as an everyday bag. I dress pretty simple, yet do have my avant-garde days. I normally wear all black though.
I drove to Las Vegas from Los Angeles to get this Prada clutch/wallet because the simplicity of it appealed to me; however, I am thinking about returning it and getting a Louis Vuitton Speedy
Here is the clutch I picked up. the sales associate said it was sold out all over California in this color (black) and it wouldn't be in stock until May. So that factor alone makes me want to keep it.
I do find myself wanting this bag though, the Louis Vuitton Speedy 35 for daily trips and shopping days out.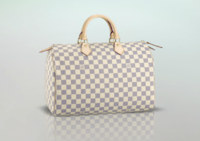 I have a Louis Vuitton Tango (small handbag/clutch)
Louis Vuitton Keepall (Duffle bag for school)
I am a guy and I am just wondering what are your opinions?
Stay with the Prada clutch or go with the Louis?
Thank you girls and guys!