Hi everyone,
This is my first time using this website so I am a little new, bare with me. I'm looking to buy a new Burberry bag, this will be the first Burberry addition to my collection. I don't know how their bags hold up to the test of time, I've had good experience with their scarves.
I'm getting really bored with the Louis Vuitton & Gucci monogram prints, it's like every girl in Toronto is carrying one outside, and now it's become more of a fad item- where everyone wants to blend in. (Dont get me wrong, I have LV and Gucci bags in my collection too- but now I'm just tired of the same designs being repeated over and over again and now that I'm older - mid 20's I want a statement piece that suits my personality and is much different- not something you see on the streets with atleast 10 people carrying.)
I lost my interest Inbetween when they started the TB designs but their plaids are beautiful. And now especially since designer
Riccardo Tisci
(ex Givenchy lead) is their lead designer now. I have to say I really like the new 2020 collection, especially the Burberry Mini Stud Belt Bag, and the Burberry Cube Bowling/Satchel Bag under their new designer. Both of them are made in Italy (phew!). Both bags are a mix of innovative and modern design, whilst maintaining the nostalgic vintage Burberry look.
I really like the classic Burberry plaid print, on both of these bag, and I'm looking for something to replace my Chloé Aby, as an everyday bag. So are either of these bags durable enough to last for daily use?
The mini stud belt bag is 55% cotton, 45% polyester outer, with the trim belt and linings 100% calf leather.
The mini cube bag on the other hand is 100% calf smooth leather outer, and the trims are 100% calf leather; 80% cotton, 20% polyester.
What do you all think of Burberry bags in general? And how were your experiences ? Keep me posted and Please let me know what you all think. I'm confused on which bag I like better because their both two very different styles from what I usually go for. But Nonetheless I love them both! So any feedback would be greatly appreciated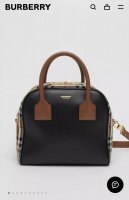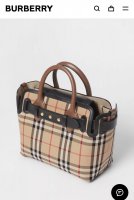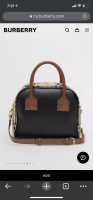 Last edited: