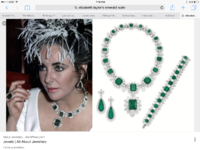 Does anyone know why Tiffany discontinued emeralds and rubies???
They tell me they "can get them" if I special order but that they are from "conflict areas" so they no longer carry them in their regular lines.
My local jeweler says that is a bunch of hooey and they dislike emeralds (especially) and rubies because they are so soft they are difficult for modern consumers to take care of.
I tend to agree with him but wow what a bummer!
Women have coveted these precious gems for centuries so why now?!?
Elizabeth Taylor certainly wasn't scared away...her famous emerald suite was closest to her heart!!!!!