It's a clown world after all
Feb 10, 2017
4,271
10,033
I would have loved to be the first to post in
aalinne_72
's thread "*
March/April* Our New Acquisitions!
" but my much hoped for Cognac City is going back.
So. I finally received my City Cognac from S/S 2006. I had high expectations but I just don't "feel it". It's not sparking joy

When I received my make-up clutch in Rouge Vif my heart skipped with joy, I really "felt it". I cuddle that m-u clutch every day


It's disappointing that I didn't feel the same about the Cognac City BUT it's also good because:
Now I know how it will feel when I find a bag that is truly for me. I haven't bought "grown-up" bags in a long time but the m-u clutch reminded me. Like when I bought my first Mulberry in my early 20's, with my own hard earned money. What a feeling that was.
Now I know what's highest on my wish list. This will help me keep my eye on my main goal, a beautiful RH City in smooth black leather and a few coin purses/m-u clutches, and not get sidetracked by all the other pretty Bal bags in all their variations and juicy colours. And it's so easy to get distracted!
I now know that I want a bag that is new or that looks as good as new.
Balenciaga, Proenza Schouler and Chloé are the forums that lured me in to TPF, and that keep me coming here. I've forgotten about Chloé and PS for a while due to Bal obsession but I will widen my "Cognac search field" to include these brands again.
(Thank you for reading my "thinking out loud". Here are some pictures of the bag, in case anyone is interested in how a 2006 City RH in Cognac and Chèvre can look. There are more pics in the Authenticate… thread).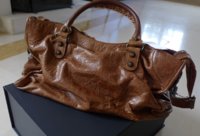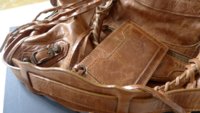 Last edited: