What would you wear with these pants and this boot?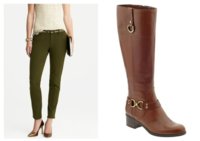 The pants are a little more saturated green than the pic. A really pretty neutral, but definitely green, not brown. (Although I'll probably get the brown ones tomorrow.

)
I love these pants and boots together, but I'm not sure what to wear on top!
If I add a blazer, it looks VERY equestrian, like a cliche. I don't ride horses much.
I kind of want to tone down the theme, but still look cute and slightly effortless.
The boots kind of imply cooler weather, so I think a completer piece is in order. I would probably do at least a top and a completer piece to balance out the boots.
Any ideas? Thanks!