30th anniversary cuff
O.G.
Aug 31, 2008
10,079
23,308
How was Rami's performance?!
I'm a fan of Jame along and Rami, and I thought even Rami was meh. It was so very very long. Rami did have to spend 2.5 hours in makeup every day to achieve his face for the movie. He apparently used that time to center himself into a very still, precise and scary villain
i just received a purchase ordered some time ago. Custom, entirely hand stitched Buffalo Dalmatian bag from the artisan Duret.com in France. I asked Duret to select one hide of three H quality leathers that had the most striated, contrasting veining, but Duret selected everything else : thread; contrast handles etc. it's my most exquisite bag ever. The dustbag it came in was also handstitched leather, a work of art, in and of itself. I'm not a charm person, but this charm is perfect for the bag. My pics are cross posted from my post in @tasha1's thread
My journey for an exotic bag started a couple years ago. I spent enough time on my research. I found loads of information on this forum and I am very thankful two ladies Tracey SH and 880 who helped me enormously in this journey. The bag that appealed to me was on the Duret site. I liked her...

forum.purseblog.com
the actual color is not as silvery grey IRL. It's a cross between craie and nata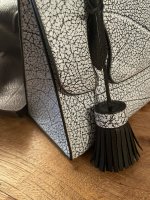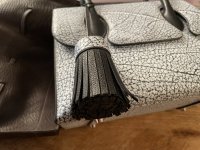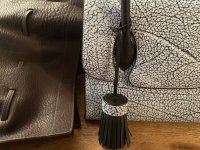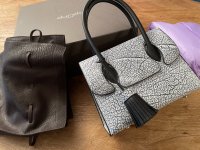 Last edited: