Hi everyone,
I recently bought two
Coach
bag charms that I really like but that don't match any of my bags. The hardware doesn't match any of my current bag's hardware and the ones where it is close the d rings on the bag are too small for the larger dog leash clips Coach uses. When I tried hanging from the hang tag chain it still didn't work.
Suggestions of what to do?
Do any of you save bag charms until the right bag comes along?
I bought this flower charm from FOS intending to use it with my vintage white Regina but I couldn't get the charm to lay flat and I was able to pair it with my legacy Willis: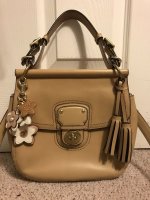 But I still have two charms with no bags to use them on...