Dear Dior enthusiasts, I need your help and guidance. At a recent pre-Christmas sale I bought three Dior items at a 20% discount: a Lady Dior Croisière WOC in metallic rose foncé, a Lady Dior voyageur wallet in black and a Lady Dior medium voyageur wallet in Tahiti bleu (pls excuse the rather poor photo quality):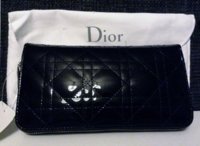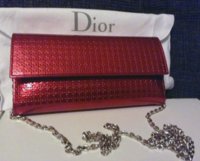 People were going mad due to the 20% discount, and there was no time to ponder or think. Thus, I grabbed all three items fully knowing that I would only keep one. Anything else would feel excessive to me (not a question of money, more a question of moderation / avoidance of overindulgence..).
My dilemma is as such: The red WOC is breathtakingly stunning, the attached pics do not do it justice. HOWEVER, I worry about two issues: 1) The bag is a formal evening bag, and at present I do not have all that many formal events to attend (however, this might change within the next couple of years so on this alone I could justify to myself keeping it). BUT 2) It is in metallic calfskin, and there seem to be issues with Dior metallic bags . Even now I can see a hint of rubbing on the edge on one side where the chain touches the leather. I feel for a bag of this calibre this is just not acceptable, and apparently there is nothing Dior can do about it. If I kept the bag it would probably mean that I would not use it due to fear of damage.



The two SLGs are beautiful as well but they do not make my heart sing the way the WOC does. This notwithstanding, I am considering to keep one of them because I would use this item. I prefer the size of the blue one since I own larger wallets (similar to the black one); at the same time I prefer black one colourwise. Sigh. First world problems.
What is your take on this? Many thanks in advance for any input.