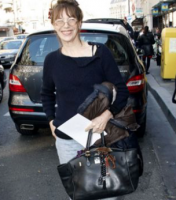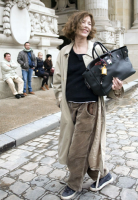 I hope you can help.
I have my heart set on a Birkin the same as Jane's I've always believed that she wears a 40 but looking at these images to my eyes one looks like a 35 one like a 40. Can anyone here give an informed opinion on this please?
I personally love the idea and look of a 40 but since the purchase will be preloved and I won't be able to try 1st AND it will almost certainly be my only Birkin bag I cant make an expensive mistake and my SA at Hermes says the 40 will be too big and most importantly too heavy for me.
I want 'this look' but will almost certainly be buying a 35cm.
I'm 5'3 and not young so I really dont want a bag I dont carry due to weight.
I know Epsom is the lightest leather but I dont like like it so any tips for other leathers that don't weigh a ton?
I prefer a smooth leather or one with as little grain as possible (I dont like 'pebbled' looking leather)
Thank you in advance