Hello everyone
I am thinking about purchasing my first ever VCA piece. I have always loved the Vintage Alhambra in MOP set in white gold. So I think that will be my very first purchase.
Unfortunately there is no VCA in Scotland where I live and due to the virus situation I will likely purchase online. Travel isn't an option for me right now
I prefer my bangles and bracelets to be very neat on. My Cartier love fits snugly and it's how I like it. I don't like movement.
So if you wear a size 16 inyour Cartier Love what length do you wear your VCA Alhambra bracelet at?
It is listed as 18cms online and I think I may have to have it reduced by about a centimetre to for snuggly.
Here is my current stack!
Thank you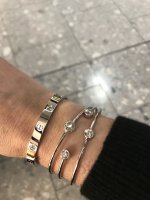 Last edited: