For the life of me, I could not find a proper "What's in my bag" thread and I think we need one! So, let's see your pictures - and let's keep this thread about the picture posts please. Makes for an easier read and a more on-point thread, right?

I'll open up the game with my Mulberry Ledbury - travelling today and while Be Right Backpack carries all things big and heavy, Leddie takes care of the following items for me:
Mulberry Long Locked Purse in Mulberry Pink (early, preloved Christmas pressie from me to me)
Lancel key pouch
Hat and gloves
Phone
Sunnies
Bus card
Hair ties
Two silver rings
Shoelaces
Snack bar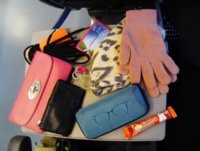 And here she is, not even stuffed to the brim!