Its been a great week for jewellery & *I think* I have found my 30th birthday present for next year.
It is an 18k white gold daisy cluster pendant - one big diamond, 8 smaller diamonds, all bezels & milgrain edges (photo below). Total size is about 8mm.
Specifically I want to get your opinions on these points:
Does it look too young? Can I still wear it in 10, 20 years time?
Is it too large? Compared to TPF standards it's tiny but my everyday necklace is a 0.15ct bezel. For me, there is a case of "too much bling". On a daily basis I also wear 0.30tcw bezel stud earrings & a 26mm SS Rolex with diamond markers. So I wear diamonds, albeit small ones.
Can it be worn casually & more dressy occasions like a wedding?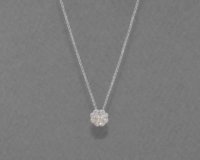 Thank you