So I've been thinking about SLGs and which ones I would like to bring into my collection and I'm still finding it hard to get behind the cardholders.
Don't get me wrong they're cute and all but part of why I continue to carry my big trifold wallet is that between my credit cards, my debit card, my ID, my health insurance cards, AAA card, and store membership cards, I would need at least a couple of cardholders in order to fit them all. And even if I could stuff half of them in one pocket I don't like the idea that I'd have to take out
all
my cards in order to fish out the one I need for that moment (especially at the register and there's a line...).
So then one day as I was browsing Tradesy I came across a few listings of this, the Pression cardholder.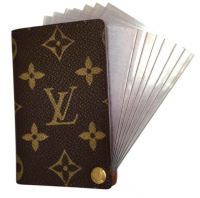 INSTANT love. This is exactly what I need. However, when I began to look it up I saw that NOBODY was talking about it. I can't even find it on any kind of Louis Vuitton website or something. So I wonder if there's something wrong with it or if there's a reason I shouldn't get it. Which is why I came here. Would this be a wise purchase to make? Or are there problems with it?
(Oh and I can see how it looks incredibly 80's/90's but that also add to the charm of it for me lol)