Do you all like this shoe?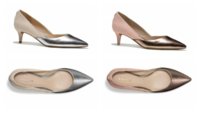 http://www.coach.com/online/handbag...=cgj&catId=23762&navCatId=7100000000000000613
The heel is low (1.25"), it is suede and mirror metallic leather.
I never do flats, but I was thinking about these for walking (not miles, just malls when I want to dress up a little more). I know that sounds backwards. I have some 2" heels that I wear quite often and I don't even like the leather! (It's multicolor snakeskin.) My old 2" suede block heel shoes look dowdy and I rarely wear them, probably because of the block heel and lack of toe cleavage.

Is the mirror metallic leather hard to maintain?
Would the suede get dirty if I sprayed it with Apple Garde and took reasonable care when walking outside (not too much walking outside)?
Which color do you like better?
Would the rose go ok with silver jewelry?
Is this too dressy? I saw a lot of blog pics with silver pumps and jeans.
Is the heel too short?
TIA!