Jun 18, 2012
10,451
35,892
I have an ivory single flap jumbo that just isn't working for me. I never reach for it because the color isn't one I want or need to wear often.
I thought about selling it but I greatly prefer single flap jumbos over double flap, I adore this bijoux chain and I don't really want the hassle of selling or to take a loss on the bag. The
only
issue I have with this bag is the color.
So, I've decided to dye it.
I was originally thinking pink. But, I have three pink bags - a hot pink Dior, salmon pink
Prada
and a pale pink Fendi. In a collection of 26 bags - of which 7 are black - do I need a 4th pink?
Last year I wore my pink bags a total of 13 times. (I track what I wear every day) So, probably not.
The two other colors I very much want to add to my collection are bordeaux and navy. I don't see this bag looking good in bordeaux. I think I'd like a more structured bag for that color like a smallish H Kelly. And, I have a red Chanel jumbo. So, nix the burgundy.
Where I think I'm going to land is a rich navy similar to this color. Even better if I can get a similar light metallic sheen.

(Photo not mine. Sourced from google.)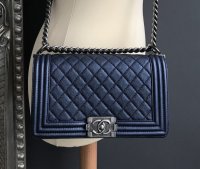 The only question on navy for me is around the interior which is a light caramel color.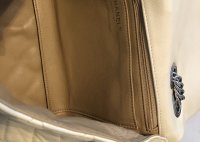 It makes a nice contrast with the ivory. But, would it be too much contrast with the navy? Perhaps not since many black Chanel bags have red lining. And, my three Miss Diors have a leather lining in a beautiful color that contrasts with the exterior.
With the dying, I worry a teeny bit about someone thinking the bag is fake since it will be a model that didn't originally come in that color. But, I can't let that stop me from getting the right color for me.
I'm open into any and all thoughts. The
only
thing off the table is keeping it ivory. I know this color works for many but I've owned this bag for years now. The color isn't working for me.