I just got MY PERFECT BAG!!! After much discovery, it isn't the first, twiggy, or city; it's the PURSE!!!
I was lucky enough to acquire an 04 White purse with pewter hardware AND I LOVE IT!!!!!!

Am wondering what colors everyone has with the pewter??
Thanks (sorry for the bad pic, the purse is TDF!!!)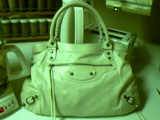 (could only do 1 fast pic, as you can see, everything YELLOW, will redo tomorrow) THE PURSE IS WONDERFUL!!!