Hi everyone!
A cropped trench coat/jacket has been on my wish list for a long time. I wanted to get khaki, then I tried on a red one, and.... Well, now I'm confused.
My hair color is blonde and skin tone is light warm. So I'm wondering if a golden khaki or paper-bag brown is really a bad color for me (as is gray, and black near my face).
Here is the one I tried on. I think the color is good, but definitely not neutral. Not sure how much I would wear it, though it goes with most of my pants: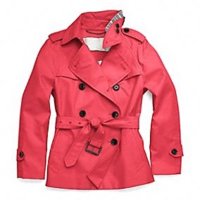 My leather jackets (in rotation) are black, milk chocolate, maroon, light blue and navy. I also have a casual gap jacket in military green, and a longer trench in light gray (from college).
Should I go for a brighter color, like this coral-y red, or should I wait for some other options? Mahogany (espresso) might work. Navy might be too parochial-school for me, and I already have 2 blue leather jackets + denim jackets. Olive - I don't know. I want something versatile and flattering. Would be nice if the color could be interpreted as a neutral but not necessary, I guess.
I'm willing to wait for the perfect trench.
Here are some Burberry colors:
http://us.burberry.com/store/trench.../brit/prod-38612541-short-cotton-trench-coat/
What are your thoughts?
Last edited: