I called one of my outlets last week looking for a dark plume phoebe. They didn't have any but they had cranberry. I asked them to hold it for me and I headed out there.
Well, they had just received shipment of new deleted madison and I was in heaven. I had four or five bags on my arms trying to decide along with accessories.
I decided cranberry phoebe was too close in colour to magenta isabelle which I already have. I had narrowed it down to 2 choices.... And I couldn't decide. So.... They both came home with me!!!
Madison north/south twisted satchel
And Madison north/south lizard embossed satchel.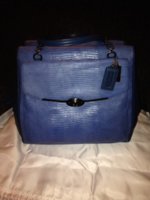 And then...... Today.... Omg omg. Went to check out my outlet again. Some new stuff was out. But not newly deleted stuff. It was a lot of older stuff that's been around for a couple months at least. I was checking out the suntan woven lily and talking to my SA and she says that there's a Caroline on clearance. I think I almost blacked out! The store was rearranged a bit so I was on the other side. I ran over to find it. Even though it was raining outside today, it was like the clouds parted and the sun came shining down At that moment. I know I know I being dramatic. Lol. But dang, that just made my day!!!
Woven mushroom Caroline. All mine!!!
(Wish I could take awesome pics like some of you gals...my skills are lacking there)