Mar 16, 1980
17,263
6,613
41
Hello all, welcome to yet another iteration of our beloved community. Most of what you see should be familiar, at least on the surface. Underneath the paint there's a lot of modernizing that's gone into this build, which should make things more enjoyable for you to interact with our community. The forum is now a lot more mobile friendly, faster and more reliable. Posting comments, reacting to other users' posts and sharing pictures is now easier than ever before.
The good news is that this new software allows us to finally embark on some cool new forum features and initiatives that I have been putting off developing on the old platform. So in that spirit, stay tuned for some really cool, new bits hitting TPF in the coming weeks and months.
Some highlights of this new TPF version:
You can now react to posts, similarly to how you would on other social platforms (go beyond the like)
Collapse sub-forums and sticky threads to get to active discussions quicker.
Easy Giphy integration. Nothing says how you feel about a topic than an animated GIF from your fave movie or show.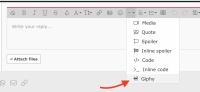 The Trending tab is back - a cool new way to discover where the discussions are lively right now!
Post new threads right inside your favorite forum. Just look for the block above the thread listing and click or tap it. Voila!
Find Threads offers a new way to find threads you posted in or threads that are unanswered, so you can help out the community.
...and much more. I'll be posting announcements of new features as they roll out.
Cheers to you and thank you for being a part of this community for the past 15 years. Post any feedback you may have below and we'll make sure to address it.
Last edited: