Hello everyone,
With the revival of Prada's nylon, I am eyeing the Prada Re-Edition 2005 nylon shoulder bag with the (90%) intention of buying.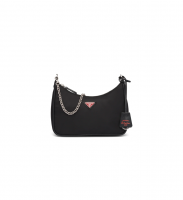 Though, I am still dithering because I do not actually see any updates of the wear and tear of Prada's nylon in the recent collections - latest offerings of revived shoulder bags and backpacks and messenger bags etc. - as most updates are reviews of vintage pieces.
Can anyone attest to the quality of their nylon from the recent collections? How is it holding up?