Hi ladies,
I am a BV newbie. I usually shop other brands but the search for a compact and simple wallet led me to BV. The mini ones look beautiful and simple with enough card slots AND a coin compartment.
While red looks good I was wondering if I could get the wallet in a different color if I worked with a boutique. I usually shop Balenciaga and the boutiques are not connected to the online store and carry colors not from the current season. I was wondering if BV was the same way or what I see on BV website is what the boutiques will have. I live in LA so I think there are some stores I can visit in person to see the wallets if I choose to.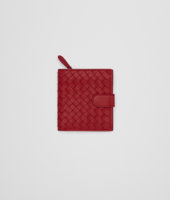 This is the one but I was wondering if I could find something in pink or a different shade. I am replacing a black one so I want to go for something fun.
Hhttp://
www.bottegaveneta.com/us/mini-wallet-or-coin-purse_cod46481623cl.html
Thank you everyone!