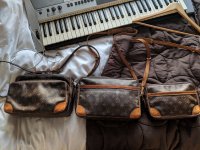 Hi all, fairly new to the purseblog, recently been enjoying collecting Louis Vuitton pieces and have had 4 bags now. However will be gifting 2 of my vintage trocadero's to my mother and girlfriend for christmas. I've always looked into the history etc of my bags however this one piece has always confused me and it's made me want to discover more if any of you experts would be of assistance, as I'm far from an expert.
I have a vintage April 1990 Trocadero (N00904), however it has the eclair zipper attached rather than the LV logo zipper (which is what I have on my 1987 Trocadero 23). I'm confused by this as reading online I was lead to the French luggage company, which seems to state were made in America? It was hard to tell if the eclair zipper as an exclusive to these French luggage company bags, or am I just missing the mark here. Any advice would help.
Thanks all.
(The bag in question is in the middle of the 3).