Hi all,
So recently I sold my CF Jumbo in caviar leather for some extra cash, and looking to replace it.
I'm looking to get a Vintage purse, and the choice is between the vintage "Kelly" or the vintage CF in lambskin and GHW.
I inserted pictures of both items here (for reference only, not the actual ones).
I really like caviar leather because it is so fuss-free and easy to maintain, plus the particular Kelly bag that I found is in great condition!
Really structured, with shiny CC turn lock and virtually no signs of wear.
I plan to add a chain strap to this because I'm just a crossbody kind of girl haha (and need to be hands-free at times).
However, the size of this Kelly is jumbo, so it is on the bigger size, and I'm not sure if I like that.
On the other hand, one could hardly go wrong with a well-made vintage classic flap.
The one I found is in size medium, which is perfect for me.
There are some signs of wear but nothing too bad, and the price is reasonable.
But I'm aware that lambskin will need to be baby-ed more for sure, plus it is an aged vintage piece that is less than perfect.
If you own any of these bags, could you please share some thoughts on it?
Which one should I go for?
Fyi, they cost around the same from the retailers I found (the Kelly comes in full set, the CF has hologram sticker but not the card).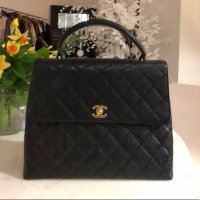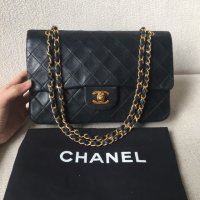 THANK YOU!