Those who have newer bags, what's your ratio of new/vintage wearage?
Eta popped into the London flagship store again today to check out the summer sale pieces in person as well as to see if the manager could find a chalk Cassie 19 for my mother. Absolutely zero left. There are some left in the department stores but not on sale and my mother didn't want it enough to pay more than the summer sale price.
Anyway, I checked out the TINY Originals tray and they were all super cute and leather lined but literally fit NOTHING! I'm a Casino girl but they are like half the Casino's size!!! The size of the turnlock was like the smallest pinch of salt.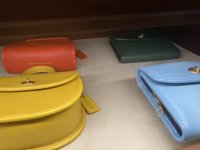 Last edited: