I've been looking for something pretty specific, made over a narrow timeframe - a thinner CC's, single flap, lamb jumbo, SHW. Wanted one that was not misshapen. I'm very small, so weight is important to me and single flaps are lighter. There are a lot of SFs out there, but a lot are misshapen, plus finding my specific wished combo with the thinner CC's was challenging.
acc to my research, the discontinued single flap jumbos made with the thinner CC's occurred over a pretty narrow timeframe, at least in the early 14x series. I saw a 13x with the previous, slightly wider CCs. Double flap jumbos started mid 14x according to someone on the forum.
Below are pics of my new to me bag!
Pros. Bag was not overstuffed and it met my specific criteria. Its pretty decent visually from far off, given age.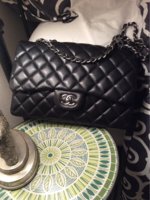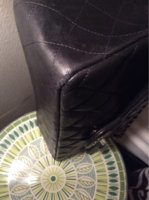 It's soft. It only has 2-3 kind of deflated puffs.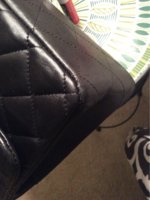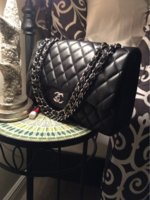 Cons are ...I keep my bags pristine ... so it's really strange for me to have a bag with so much usage, so many scratches, and pretty major corner scuffs. Also, esp in sunlight, the black is really not as rich or deep a black.....as if it has been over- wiped....In dim lighting, it still looks pretty and I'm grateful, but how long will a scuff this deep last me? It makes me worried having this area of vulnerability in the corner. Already I bumped that exact corner on a bookcase - and I've just had it a day! (I must hold it on the same shoulder as the former owner). I decided to keep the bag to use for now and gift to my daughter when she goes to college, and continue a search for a better condition one.
If anyone sees this very specific bag anywhere, please feel free to PM me!!