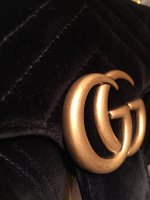 Hi everyone,
My husband just surprised me with a
Gucci
velvet marmont for Christmas and I am ELATED.
I have been inspecting it for a good 20 minutes and i keep wondering if my bag hasn't been used before. Can you please tell me if light scratches on the logo are normal. Not exactly scratches but marks.
Thank you for your help and have a fantastic holiday!