Hello ladies and occasional gentlemen,
I am a newbie in BV world. I am graduating from business school this May and I am considering to buy the top knot clutch in black satin with lamb skin finish to congratulate myself. [emoji48]
The question is, how often do you find yourself using the clutch if you own one? Do you carry it on casual night outs or brunch dates? Do you just reserve it for the formal events? I need ideas, because design wise, it is formal-ish looking and it feels slippery in my hands.... I'm scared that it would end up collecting dust and forgotten in between the special events.
This is the baby I have been eyeing on. I asked my SA to reserve it for me. Please help me decide. Thanks in advance. [emoji8][emoji8][emoji8]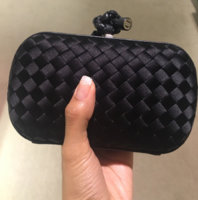 Last edited: