When this bag first appeared on the Saks website for advance order, Kroquet and I swooned. We conspired, and we plotted and saved our pennies and are now the proud owners of our very own . . . . . .
This is
Kroquet's Still Life
, a work of art, so serene, so beautiful, so incredible.
The Braided Hobo in Elephant.
Isn't she just gorgeous????????
Another for drooling . . . . .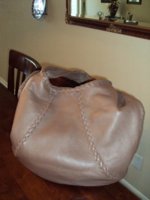 Here's Kroquet's bag again, just relaxing, a pile of incredible smooshiness.