I have a Turnlock Tote in crossgrain leather (pics are my actual tote) that has lost its shape at the corners -- it slouches and does not stand up straight. I have only had it for one month and been very careful with it. I know I can take it back to see if this is normal, but was wondering if anyone else has this problem?
I purchased this tote online and was hoping it would have more structure.
Does your Turnlock Tote slouch at the corners??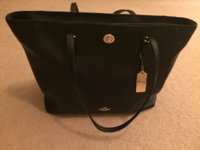 Last edited: