I recently got my first ever designer handbag, my dream bag, the LV Speedy Bandouliere 25.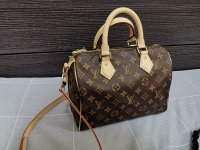 Shortly after that, I got myself a preloved Gucci Marmont camera bag in size small. Because we all need a small black bag.
My two babies together (obviously, I'm a crossbody kind of girl):

So I don't really intend to buy a lot of designer bags, as much as I want to.
I want to have a functional collection, with bags that I'll consistently use. So I want to buy items that are pretty versatile, and would last a long time. Looking at it now, I figured I need two more items:
1. A big tote when I need to bring big books, a laptop, etc
2. Another cross body that's about the same size as a speedy b, but more formal/dressier (the speedy b is pretty darn casual for me)
For the tote, of course, my first consideration is the LV Neverfull. LOL.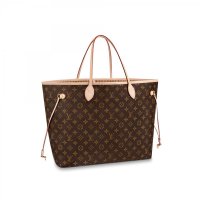 I considered the canvas material since like I said, I want it to last a long time. I went to the store today to see it in person, and to compare MM vs GM. Unfortunately, they didn't have the GM in stock.

I was able to try the MM, and I found it too small as a haul tote. So I'm thinking of getting the monogram GM. I know the DE is more carefree, but I think the issues of cracking will really bother me.
But I never owned either, so I'm hoping for your feedbacks. And do you have other totes that you prefer?

Then I went to the Givenchy store and saw the mini Antigona, and it was beautifuuul.

And almost the same size as the speedy 25.
I pretty much fell in love with the mini Antigona. It's black, can be dressy, formal, or for a night out. My only observation is that those handles get in the way of opening and closing the bag. For those who have this bag, does it bother you? Or do you get used to it?
These are the two items that I'm eyeing. What do you think?