Hi all,
Hope this thread is in the right forum, because I don't see many threads on the gorgeous Tribute sandals here..or in the Glass Slippers forum.
I'm trying to decide which colour to take for my 2nd Tribute pair in patent (my first one was in matte black). At the moment I'm eyeing on the colour "Deep Marine", photo below: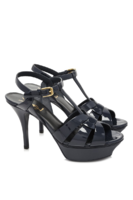 Now I'm not sure if it's easy to wear this colour to both work and non-work events. I have the safe fall-back option which is the patent black tribute, but I feel it's too similar to my existing pair in non-patent black. My style is quite a classic and so far i've got the patent black patent CL Pigalle, the Gianvito Rossi 'Plexi' with the patent black toe tips (and nude heels), and matte black Valentino rockstud (and matte black SL Tribute). I have warm colour skin tone, being Asian.
Which colours do you think the tributes look best in patent leather?
For those that own this colour, can you please do modshots? That'd help me out a lot!!