Hello this is my first time posting! I am wondering if you guys could help me in deciding which bag to add to my collection for my birthday! This is my current collection excuse that it isn't the best lighting as its the evening where I live!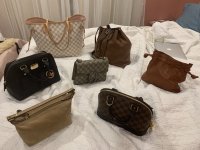 I am interested in purchasing my first Saint Laurent bag! The whole year (especially pre-COVID) I have been thinking about adding the envelope WOC as before COVID I was going out to a lot of bars and nightclubs. I bought my Gucci Dionysus last year for my birthday and although I love using this when I go out (especially for dinners) I do worry about the suede and feel the envelope WOC would be better suited for the bar environment. Now I am hesitant about purchasing it because of COVID who knows when we will be back in these sort of venues.
I recently have fallen in love with the nude toy Loulou and I think this would be a good replacement for my Clare V Emma bag (Brown bag on the right) which I have had for five years and love but unfortunately it has an oil stain on the back. I would primarily be using this bag for day-to-day errand running and causal during the day outings. Which do you think would be the best edition to my collection? Thanks for any helpful answers! Below are pictures of the two bags I am interested in!