Up way too late. Midnight snack of candy not the brightest idea. Yay, sugar buzz. But do have pic of my new twilly (jeu des omnibus), so not a completely useless post. Hopefully mods agree
Also a pic of my bag and capitales twilly outside of the Coast Salish Nation carving House, when we were downtown during Olympics.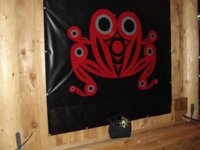 Completely useless and goofy disclaimer: I hope I shall not have to take responsibility for any silly posts left on TPF tonight. The sugar made me do it. All responsibility and complaints should be directed to Peanut Butter Cup manufacturers. Thank goodness I dont like to drink, that would be very very scary. Sugar is bad enough.
Oh, sugar crash happening now. Feeling sleepy
Last edited: