Hye!! Lets share what we've got from winter sale 2011 , shall we?
I called Tod's boutique today and found out they are having sale!!! So without thinking much , i purchased 2 G-Line Easy Sacca Grande in blue and light brown (see pics) for 30% off!
Original price was 575 Euros and i paid only 402 Euros!
D
Anyways, since I'm new to Tod's, just want to make sure, this bag can also be worn as cross body bag right?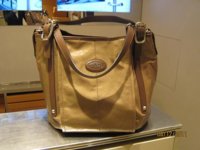 Xx