This question pops up often enough that I thought it could use a dedicated thread. Perhaps it is a bag you just bought and still have time to return. Or perhaps it is a bag you've had for a decade and are thinking about selling. Whatever the situation, why not ask here first?
Here's mine - a Mark Cross mini Grace in gold and a Mark Cross small Grace in silver. Should I keep both, sell both, or keep only one and, in that case, which one?
Background—I've had the gold mini one for a while and love it for formal events (especially holiday parties), but it is very small and a little aggravating to carry for that reason. I thought I'd stumbled on its counterpart in silver for a great price but realized when I got it that it is actually the next size up, the small Grace. On the one hand, score—what a great price for the small Grace! But on the other hand, hmmm . . . . will it work as an evening bag and if not, am I kidding myself to think that I could use it more broadly (if and—fingers crossed—when, the world recovers from Covid-19)? The Net-a-Porter styling with the grandpa cardigan and trousers is cute, but definitely not my life! Opinions appreciated!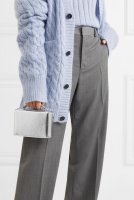 Last edited: