My husband gave me these matching Tiffany RTT bead necklace and bracelet for Christmas and I love them!! They are my first Tiffany's and I'm planning on wearing them daily

The receipt says I can return/exchange within 30 days so I checked Tiffany's website and found this other Tiffany Beads Toggle Necklace and it looks pretty too! They have the same price and I'm wondering if anyone of you have a modeling picture with this on?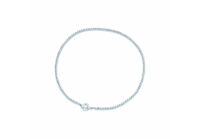 I'm also pondering if I should exchange the bracelet with Tiffany Blue® enamel finish? It's like having two in one

But does the enamel chip if you wear it daily? And what are your thoughts if you see 30++ yo wearing this?
Thank you all!!