I'm on the look out for a dainty everyday bracelet to form part of my capsule jewellery collection which is currently a mixture of platinum (rings), YG, RG & SS.
I'm not sure what colour I'd like the bracelet to be. I like mixing metals & I'm considering getting the Cartier XS Trinity ring next year to tie it all together.
I was thinking about a dbty bracelet but my necklace (& eventually my stud earrings) are diamond bezels so I'm wondering if a dbty bracelet would be a bit much.
I saw this on T&Co & really like the look of it. I like bar bracelets & this looks a bit like that with a fun twist. I think the RG is out of my price range.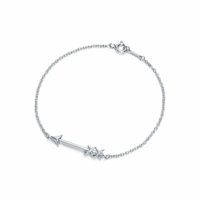 So my questions are:
Do you like the bracelet? Can I wear it in 5, 10 years time? I'm 28 now. The fact that's it's SS doesn't bother me - SS always polishes up nicely for me.
What colour is best? If RG I might have to pass.