I am looking for a small grab-n-go bag for the summer and I got lucky and ordered these 2 beauties: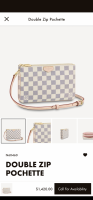 I finally got the DZP in store and she is gorgeous, MIF! Still waiting for the PA in the mail (hopefully next week). I've watched a lot of reviews and it seems like PA can hold more and is more carefree (I'm concerned about the vachetta and the rose ballerine interior getting dirty in the DZP).
What are your thoughts? Which would you keep for a summer bag?