Great article! Including first paragraph and one pic...go to link for more.
Platinum Jubilee: Discover the most iconic images of The Queen through the years
A new collection of portraits of the Queen offer a fresh perspective on her record-breaking reign
By
ALEXANDRA SHULMAN
With her Platinum Jubilee on the horizon, the Queen has never been more present in the public eye. Now, a new book from the National Portrait Gallery aims to explore the way in which we've come to recognise one of the world's most familiar faces. Elizabeth II: Princess, Queen, Icon is a collection of key imagery celebrating the life and 70-year reign of Queen Elizabeth II, from intimate family photos to the majestic formal portraits that have defined public perception of the monarch. Here, former editor-in-chief of British Vogue, Alexandra Shulman, takes a look at the way that this visual media has helped shape Elizabeth II into an icon for our age.

It is a curious fact that in today's image conscious world, where every one of us is able to produce pictures of ourselves adjusted to our idealised requirements, the person who has been the subject of the most images of all is a 95-year-old woman who has probably never fiddled around with an Instagram filter or Photoshop.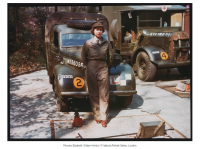 From theglossymagazine.com