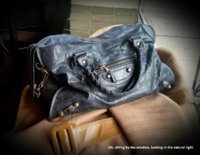 So back in the day bbag lovers were obsessed with two things when hunting the "perfect" bag. 1) Color of a certain season and 2) the leather quality.
Regarding the leather quality, some of us absolutely needed the leather to be sumptuous, "smooshy", lots of texture, etc. Some like it absolutely smooth, no veins, etc. Some would only buy chevron, others only agneau. We would drool over Nicole Richie black city, and how wonderfully slouchy and awesome the leather was. Regardless of type you preferred, you wouldn't buy a bag unless it had THE leather you want. I remember multiple bbags of the same color so I could choose between the leathers.
Less and less I am seeing the leather type mentioned here in the bbag threads. So that leads me to my question: what perimeters do you use more in choosing your perfect bbag?
For me, it's still the color and the leather needs to be extra smooshy and textured. Attached is an example of my " perfect" type of leather for a bbag.
Last edited: