I first discovered purses when I moved to my dad's house right after high school to attend college. I moved from a small backwoods town to a large city with shopping malls and luxury items galore. I literally moved from a town where the closet "mall" was 30 minutes away, where the nicest store was a Macy's, to a city where there is a four-story luxury mall 5 minutes away, where one of the lower-end stores was
Nordstrom
Rack and the food court. This mall had all of the wonderful things I never knew I wanted - Coach, Burberry, Tiffany & Co, Louis Vuitton. Being a teenager with a minimum wage budget and this being my first taste into luxury items, I of course was drawn towards the "cheaper" option - Coach. At that time, though I loved the items, the thought of spending "like, two hundred dollars" on a purse seemed absurd to me. So I decided that I was going to find one on
eBay
, to save some money, and still get something that I really liked. (That, and beg my dad to get me one for Christmas, haha!) So I found a few I liked, but was concerned about authenticity, so I started researching. And that is when I stumbled upon this wonderful place.
Louis Vuitton is something that most women consider at some point in their lives - whether it is a fleeting "oh, that would be nice.....but too expensive for me", or a full-blown obsession. I consider myself firmly planted in the middles. My wishlist has waxed and waned more than I would like to admit over the years - Balenciaga, Chanel, Dooney & Bourke, Coach, Louis Vuitton, Michael Kors, Marc Jacobs.....you name it, I have at one point considered it. My LV wishlist specifically has been anywhere between absurdly long, to virtually empty, depending on my finances and my mood. There were times, in the beginning of all of this, where my wishlist contained pretty much anything I saw and liked, even if it was for a split-second. But I found that with any brand, I attached myself to a specific bag, and then would go from there and research what colors / styles were available in that shape specifically. For LV, that was the Speedy, of course. A classic. I never really liked any of the other styles, but have gone back and forth with wanting a Neverfull as well. As of right now, the Neverfull MM is on my mind - Classic Monogram with Cherry Interior. But before that, a few Speedys. I'm not sure whether this is good or bad, but I seem to gravitate towards the limited edition pieces. My #1 LV lust is the Silver Dentelle Speedy. I was recently sitting at home, scrolling through facebook, when my favorite consignment shop posted this photo: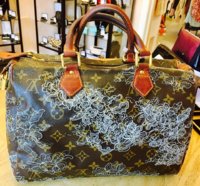 I shot up off of the couch. I messaged them - "Price?? Condition??" they messaged back - "$399, price is reflective of the piece being limited edition, and condition." I raced to the store (40 minutes away), the whole time my mind was racing. I knew that this piece retailed for approximately $1400......now it's marked down to $400? So the condition must be pretty bad.....still, I had to see for myself. I took a few purses to consign, so I would not feel it was a wasted trip. I walked through the door, and he said "oh, Jennifer! The Louis Vuitton you were asking about is right over here!" I thought to myself, "well ****, you know it's bad when the shop owner recognizes you..." lol. He took my pieces in the back to evaluate them, while I took care to look over the purse. This was my first time seeing one in person - all of my lust and knowledge of this purse has been via the internet, and the purse forum. I honestly did not even know if I would truly like it once I saw it in person. Boy, was I wrong there. It was amazing, wonderful, perfect. If only it had been in better condition. I ran my fingers over the embroidery - it was so delicate and girly, it played off of the harsher bold, brown monogram background so well - like ying and yang swirled together. I firmly cemented the fact that I NEED this purse. But I need one in better condition, or else I would regret the purchase and never want to carry it. The handles were far too dark, the canvas was peeled up in several spots along the top ridge of the bag, and the pull tabs were darkened and turning up. And a lock with no keys. This specific bag was too flawed for my love - but the bag in theory, was perfect. So the search is still on.
Here are photos I took of the actual bag: