I just thought you jewelry and diamond lovers would like this story. To see all the photos, go to the story via the link below and click on the photo or the "Slideshow" link under it.
http://news.yahoo.com/s/nm/20101117/stage_nm/us_auction_jewels
GENEVA (Reuters) –
A rare pink diamond
fetched 45.44 million Swiss francs (
$45.75 million
) on Tuesday, virtually
doubling the previous record
to become the most expensive stone ever sold at auction and underline the strength of the international jewelry market.
The rectangular step-cut pink diamond, which weighs
24.78 carats
and is about the size of a pinball, was the star lot among nearly 500 on the block at Sotheby's semi-annual jewelry sales in Geneva.
Top diamond dealer Laurence Graff
, bidding by telephone, was the buyer of the diamond which is mounted in a platinum ring, the auction house said in a statement.
"It is the most fabulous diamond I've seen in the history of my career and I'm delighted to have bought it," said Graff, a Briton who began his career as a teenager in London's East End and now resides in the Swiss resort of Gstaad.
"It is a world record price for a jewel at auction," said David Bennett, chairman of Sotheby's jewelry department in Europe and the Middle East, as he brought down the hammer to applause in the packed sales room.
"It's like pink champagne," he told Reuters before the sale.

The stone, purchased from American jeweller Harry Winston 60 years ago by the anonymous owner who consigned it for auction in the Swiss city, had a pre-sale estimate of $27-38 million.
Previously, the world's most expensive jewel sold at auction was the historic "Wittelsbach" blue diamond, a 17th century stone of 35.56 carats that fetched $24.3 million in December 2008 at rival Christie's.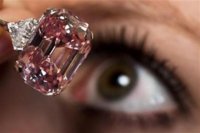 Another story on the topic:
http://www.businessinsider.com/most-expensive-diamond-ever2010-11
Last edited: