I hope I'm allowed to make a thread like this, but it's just amazing how the Daily Mail, which is an official news paper I think, constantly photoshops celebs like Victoria Beckham, Kate Moss and now also Heidi Montag to give them the legs of an 80 year old woman with cellulite.
Why on earth is the Daily Mail so obsessed with cellulite?
Not even vile gossip bloggers like Perez Hilton do this.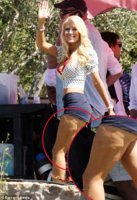 I don't have the original pictures, but I think everybody knows that Victoria's and Heidi's legs don't look like that.
Here are some links:
http://www.dailymail.co.uk/tvshowbiz/article-1258642/Heidi-Montag-reveals-signs-cellulite.html
http://www.dailymail.co.uk/tvshowbi...ples-Posh---shame-theyre-sun-kissed-legs.html