Sep 22, 2019
6,763
27,248
Just got my Albany Tote from Teddi Joelle's Italian Collaboration (Italy X Teddi Jollle) collection. Since I don't see other posts about this brand, I thought I'd do a full review of the bag.
The leather is really smooth, and decently thick (I doubt it's full thickness, but that means it's also lighter weight). It's stiff, and I'm curious how the leather will soften over time. The leather seems like what I'd expect at this price point, not at all disappointed.
His bags are made in Spokane, WA in the USA, but this collection was made in Italy, by Italian craftsman. The blog post says this takes the craftsmanship to an entirely new level. I'm really impressed with the craftsmanship, but that is for this collection, and I don't know about his other bags made in Spokane since even he admits this collection is a different level. It has an inside pocket, stamped with Made In Italy, since this is the Italian Collaboration. I pulled the inside pocket out to show it's size, and the Made in Italy stamp. The magnetic closure at the top is nice and strong.
I wanted a bag that was high enough quality to be good for work, but not at a Premier brand level - as it's for use over this winter, and will be out in bad weather (for extremely short periods of time, but still not willing to risk my Premier bags). And I wanted it big enough to be able to carry my essentials, plus gloves and a scarf or maybe some other small items. I also wanted it minimalist and no hardware, so that I could truly wear it with anything. I also wanted it 'anonymous' - so not MK, Coach, RM, etc and very discreet branding. Nothing against those brands, as I own bags from all three, just wanted something different. This bag definitely fit those requirements.
It passed the Feline Inspection, as all new items entering the apartment are required to. For the mod shots, please keep in mind I'm 4'11". I can fit it as a cross body, but not real comfortably (that may change as the leather softens), but definitely not going to fit crossbody over a winter coat. Please forgive the extremely casual clothes. I did a close shot to show how precise and even the stitches are, and how sharp the heat stamp of his name is. Again, excellent craftsmanship.
What he has left from this collection is on sale for 50% off...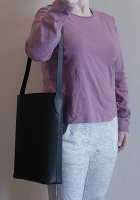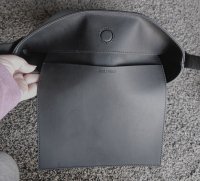 Last edited: