Hi all, finally decided to pull out my small collection and showcase it here!
When I first started collecting I wasn't buying what was necessarily functional for me.
My very first LV was a monogram alma bb. Followed by the compact origami wallet in damier ebene.
My original collection consisted of the following:
•Michael Kors Selma (hot pink and black)
•Various other MK bags
•Monogram Alma BB
•Compact origami wallet damier ebene
•Westminster PM
•OM zippy wallet (the one that opens flat) damier ebene
•Greenwhich PM
•LV bag charm
•Neverfull PM Azur
•Cles Azur
•Round coin purse
I found I hardly used any of the above and ended up selling off everything but the Azur Cles. I took a two(?) year hiatus and found my way back with the thought I'd only buy one bag.
I purchased the
Coach
Rogue 25 in dark denim.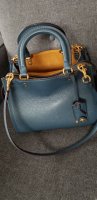 I purchased an Eva in Damier Ebene, monogram cardholder and agenda PM and then decided the Eva and agenda weren't for me either, sold them and came across the Twice/twinset.
I found a consignment shop near me and they sourced me a mono/noir. About a month later I decided I wanted the empreinte noir as well, and they found me one in excellent condition.
For a short while, I was considering the speedy B 25 in damier ebene, but as I walked into the consignment store, there sitting on the counter was a monogram Pochette Metis. I never thought I'd come across one with how in demand they were and still are. I bought it on the spot.
Again, I found myself afraid of the vachetta. I used it twice and when considering selling it, I noticed a small crack by the flap. I took it to LV for repair in early 2018 and they replaced the flap for me which I paid for. I saw the empreinte noir in store and decided I needed it as it would be worry free. Finally in October 2018 it was mine!!
I have since used my monogram PM a ton! I just made my first bandeau purchases before Christmas and have found I'm no longer afraid of vachetta because I love when bags have the honey vachetta and can't wait for mine to look like that!
I also love that my PM is a hybrid. Best of both worlds! The thick original canvas on the bottom and the flap being the more pliable canvas.
I have realized that although there are many beautiful bags and SLGs, I don't have to own them all and I like to have a few that I love and get use out of.
My Current Collection:
•Damier azur cles MIF
•Monogram card holder MIS
•Twice/Twinset empreinte noir MIF
•Pochette Metis monogram MIF
•Pochette Metis empreinte noir MIU
•Rosalie coin purse DE/RB MIS
•Louis A Paris Bandeau
•Catogram bandeau
•Hermes clic H Bleu Atoll
•Coach Rogue 25 in dark denim
•Coach crossbody tea rose
•Coach mouse coin pouch
•Coach shark coin pouch