I am choosing between the below two option for a twelve year old girl birthday gift.
I feel this is such an important birthday and I would like to gift her something special. She loves white gold and loves four leave clovers.
sweet size is a good size for her age now but she might soon outgrown the size. Vintage is a great size for her to grow with but might be too loud for her as a twelve year old.
please share your thoughts
1)the sweet alhambra diamond paved single motif necklace in white gold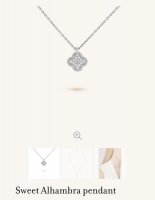 Or the
2) vintage size