So, if you remember my story, I'm the one who packed up Rory for my job interview. The great news - I am now in my 3rd week at my new job! It's a great place, and I'm very fortunate to have things fall into place as they did...especially since my job was eliminated after over 7 years and a lot of sacrifices - in all frankness, I was hurt and my confidence took a big hit. I'd love to say my ego isn't wrapped up in my job - and while it will NEVER eclipse my joy in being a wife and mom, it's really 2 different things. I've been in my field since college. I worked full time and went to night school to finish my bachelors degree. College was where I met the love of my life. His name is David.
I've been coveting the legacy slim zip wallet in cognac for months. It's the perfect size for me, and in my real life I use my cognac duffle and deep port courtenay as my daily bags, in addition to my beloved dooney florentine satchel.
This is getting long!
Anyway, as part of my departure from my old job, I was paid out my accrued but unused vacation. Since I save my vacation for Christmas/my birthday (12/27)/New Years, I had a full paycheck in $$$$$!
David was patient enough to let me visit my coveted wallet and gaze upon its beauty every. single. time. we got close to the mall...but no effing way was I going to shell out the dolla bills for a "me" present THIS CLOSE to Christmas and my 40th birthday - and let's face it, I don't exactly "need" another SLG.
See attached the pics of what appeared on my desk during a conference call last Thursday morning...a huge diet coke, a jumbo size snickers (my weakness), AND a very special box! Here's the best part - he knew they were only in dept stores, and the first mall only had the floor model - so he drove across town to a different mall to get one NIB! And, he got 25% off! It is SUCH a perfect wallet - plenty of pockets and the gorgeous cognac, with leather slots for the cards and a zipper pocket inside for coins. I love it, and would NEVER have bought it for myself.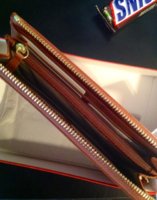 Thank you to everyone for all your well wishes along the way. It was a scary time. I'm lucky, and happy, and couldn't ask for a more thoughtful husband. After almost 21 years, he still surprises me. He said "you worked so hard and deserve something to remember this victory - and how much I appreciate your dedication to our family". I might have cried a little bit

Anyway, that's my very long story, and thanks for staying with me along the way. Again, my sincere thanks for all of the kindness and support my Coachies gave me - y'all are bright stars in my galaxy!